Áine Brolly
Director Ardlinn Executive Search
Chief Executive Officer (CEO) Northern Ireland
Áine joined the Cpl Group as an executive in August 2015 and is Founder & Director of Ardlinn, Cpl's executive search brand. She is an expert in supporting organisations with their recruitment, talent and outsourcing needs, as well as helping them to set up in new jurisdictions.
Email: Aine.Brolly@Ardlinn.com
Call: +44 7584048153
Áine spent over three years as SVP Business Development with Invest Northern Ireland in San Francisco where she led a team responsible for driving Foreign Direct Investment and International trade and export. She and her team assisted over 10 US based companies to establish successful operations and R&D facilities in Northern Ireland including Puppet Labs, Alertlogic, Proofpoint, Intel, GoDaddy, Apple and WhiteHat Security.
Prior to Invest NI, Áine was a Director of Executive Search for London-based Penna plc, a global HR services company where she led their executive recruitment practice in Ireland and recruited over 100 C-Level executives for global enterprises.
This week's Featured Content
J.P. Morgan Senior Country Office for Ireland announced as...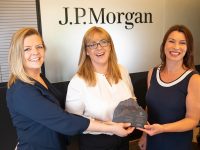 Áine Brolly in conversation with IoD Ireland.